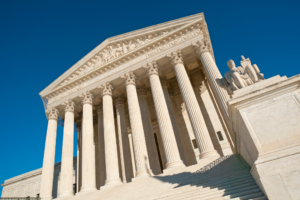 WASHINGTON, D.C. (DECEMBER 30, 2021) – We The Patriots USA, Inc. (WTP USA) has filed a brief at the U.S. Supreme Court opposing the Biden administration's OSHA mandate for employers with 100 or more employees, as well as the mandate for health care workers who work for employers receiving federal funding. The high court will hear oral arguments on January 7, 2022 in two emergency applications to overturn the Sixth Circuit's decision to lift the stay of the mandate originally imposed by the Fifth Circuit. The applications were filed by a group of trade associations and a group of states led by Ohio.
Attorney Brian Festa, WTP USA Vice-President and Co-Founder, issued a statement on Thursday regarding the organization's legal filing. "Our position is clear. The Biden administration has intentionally violated the U.S. Constitution and in the process has wreaked havoc on the national economy, throwing businesses into chaos and placing the health and well being of millions of Americans in jeopardy. The reality is that if these mandates are allowed to stand, every working American who exercises their constitutional right to choose their own medical treatment will soon be facing a job loss. While these mandates were passed in the name of protecting public health, the cruel irony is that the mandate will cripple an already struggling supply chain, forcing millions out of work without access to the necessaries of basic living, and—perhaps worst of all—force critical front line health care workers out of jobs, denying access to life-saving treatment in communities all across the nations. This country is already experiencing the worst nursing shortage in its history. Joe Biden's response is to decimate the staffs of hospitals and other critical care facilities from coast to coast."
Among other things, WTP USA argues in its brief that mandating medical treatment for vast portions of the population is a power that Congress has never delegated to the Executive Branch, and that federalism prohibits Congress from exercising police power to enact general measures to protect public health. The right of all Americans to control their very persons is at stake in these cases.
The brief was co-authored by Attorneys Norm Pattis and Cameron Atkinson of the law firm Pattis and Smith, LLC, Of Counsel to WTP USA. Patrick Nugent, a Duke University law student who clerked for the firm, also made a substantial contribution to the brief.