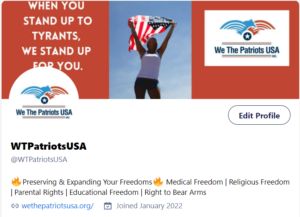 The tyranny of silence is over.
We The Patriots USA believes in freedom of speech and supports alternative social media platforms that oppose censorship. Experts, organizations, and everyday people are constantly banned from mainstream social media platforms for speaking truth. It has happened to us at WTP USA. And it is time for a change.
One of the main pillars of We The Patriots USA is to educate and connect a strong network of Patriots. Social media is an interactive tool that allows us to connect and communicate with one another. We have been muzzled, censored, and silenced for too long.
Let's connect and get talking on
GETTR
today!