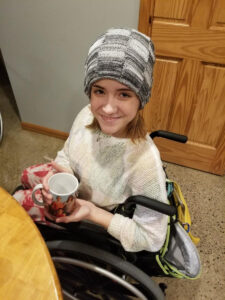 We can't say exactly why this story hasn't gone viral. We can't say exactly why, even after being featured in national publications like Life Site News and numerous interviews on major programs such as The Blaze's Conservative Review with Daniel Horowitz, The Stew Peters Show, and The Mel K. Show, the fundraising for this lawsuit has stalled at only $13,986 of the $50,000 goal. But whatever the reason, one thing is clear: Alisa Campau needs your help, and she needs it NOW.
In just two months' time, Alisa will turn 18, making her ineligible for placement on the high-priority pediatric kidney transplant list. With end-stage renal disease, it is critically important that we get Alisa on that list, giving her a chance of getting a transplant in a matter of months. Wait times on the adult list can be up to 5 years.
When Alisa's parents adopted her from Ukraine last summer, they knew she was ill. But they didn't know just how sick she was until doctors revealed that Alisa's one remaining kidney was functioning so poorly that she required dialysis, and would not recover without a kidney transplant. After enduring this heartbreak, imagine the shock felt by Alisa's parents when they were then told that Alisa would not be placed on the kidney transplant list unless she agreed to be injected with the covid and flu shots, in violation of her religious beliefs.
We have committed to fight for Alisa in court. Our attorneys are already preparing to file a federal lawsuit against Spectrum Health/Helen Devos Children's Hospital in Grand Rapids, MI, demanding an end to this vile discrimination, and seeking to establish a vitally important precedent for all Americans, i.e. that no person may ever be denied life-saving medical treatment just for refusing a shot.
But we cannot do this without your help. We rely exclusively on the generosity of our donors to brings lawsuits like Alisa's. Please consider donating to Alisa's lawsuit today, and–just as importantly–share this fundraiser link with everyone you know and ask them to do the same. Finally, and most importantly, please pray that we are able to reach this goal and save Alisa's life. With God, all things are possible.