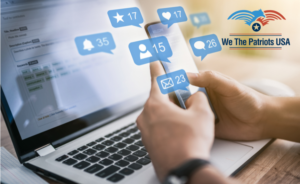 With Elon Musk acquiring control of Twitter, we've heard many breathing a sigh of relief, apparently under the impression that free speech is alive and well again on the platform. We have our doubts, but regardless, do not be fooled: censorship is alive and well in America. Seemingly every day our content is suppressed and we are being threatened with permanent bans from Facebook, YouTube, and various other Big Tech platforms.
That is why it is so critical that we stay connected on as many alternative platforms as possible. We must have a way to stay in touch when they shut us down. Please follow us on each of the platforms listed below for all of the latest news and updates on our organization's efforts (including lawsuit updates), as well as UNCENSORED news from around the globe.
Join us on Telegram
Join us on Truth Social
Join us on Gab
Join us on GETTR
And if you'd like to find us on traditional social media platforms, you can still follow us (for now) on Facebook, Twitter, Instagram, and TikTok.