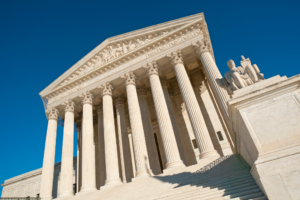 January 13, 2022
In a case in which We The Patriots USA, Inc. (WTP USA) filed an amicus brief, the United States Supreme Court today struck down Joe Biden's unconstitutional covid shot mandate for employers with 100 or more employees. Today is a great day for liberty, and we are proud to say that we played an integral part in it! We are grateful for the brilliant work of the attorneys at Pattis and Smith, LLC in drafting our brief. Our brief argued that this was an individual rights issue, an issue not raised by the plaintiffs who filed the lawsuit. Six justices ruled to strike down the OSHA mandate. Only Justices Kagan, Sotomayor, and Breyer dissented.
In an unsigned opinion, the Court held that,
"Although Congress has indisputably given OSHA the power to regulate occupational dangers, it has not given that agency the power to regulate public health more broadly … Requiring the vaccination of 84 million Americans, selected simply because they work for employers with more than 100 employees, certainly falls in the latter category."
While this is certainly a day for celebration, we are disappointed in the court's other decision released today, which found that Biden's healthcare worker mandate must stand (for now). We will continue to fight for the rights of all healthcare workers, and intend to litigate this issue fiercely through our New York healthcare workers lawsuit, which is still ongoing, and which we fully expect to land at the SCOTUS once again.
We would not have been able to participate in this case, and will not be able to continue fighting these battles, without your generous support. It's because of brave patriots like you that we were able to join the parties opposing the OSHA mandate, and were able to present our carefully crafted arguments to the nation's highest court. Please consider supporting our organization today, so we can rack up more legal victories in 2022. We thank you in advance for your generosity.