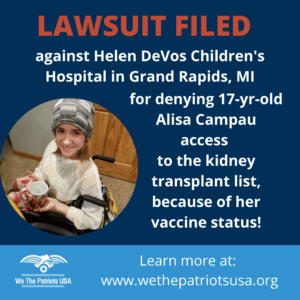 GRAND RAPIDS, MI – A federal lawsuit being funded by We The Patriots USA was filed in the Western District of Michigan against Spectrum Health Hospitals/Helen Devos Children's Hospital today, on behalf of a 17 year-old Michigan girl who was denied placement on the kidney transplant wait list, after refusing certain medical interventions—including the covid and flu shots— due to the family's religious beliefs. As we previously reported, Alisa Campau has end-stage renal disease and only minimal functioning in her one remaining kidney. She currently relies on regular dialysis treatments to survive. Alisa's parents adopted her from Ukraine last summer.
Read the federal complaint here.
Read the official press release here.
A press conference is scheduled for this Monday, May 16th, at 11 a.m. EDT in front of the federal courthouse at 110 Michigan Street NW in Grand Rapids.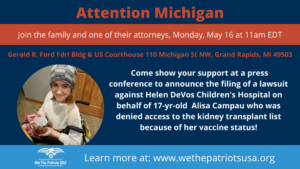 Although we have raised less than $16,000 toward our $50,000 goal to fund Alisa's lawsuit, we decided to forge ahead and get this filed, because there is no time to waste for Alisa. We are hopeful that the generous support of donors like you will help us reach our goal, so that we can continue to help Alisa and the countless others who have reached out to us for help. Please consider a donation to Alisa's legal fund today, share the donation link with everyone you know, and pray for Alisa!