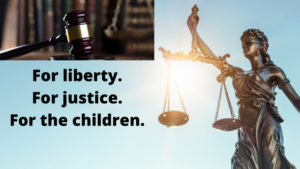 JANUARY 11, 2022 – Tonight U.S. District Court Judge Janet Arterton dismissed the lawsuit filed by We The Patriots USA, Inc.; CT Freedom Alliance, LLC; and three parents of Connecticut schoolchildren, challenging the law passed by the state legislature and Governor Ned Lamont last April, which repealed the religious exemption to immunizations required for school attendance in Connecticut. Read the decision here.
To be clear, we expected this outcome. We have said from the very start that we believe strongly that this case will be won at the United States Supreme Court, not in the District Court, or at the Second Circuit. We will swiftly file an appeal to the Second Circuit, but even if we prevail there, the State will appeal to the United States Supreme Court, and we are confident the case will be heard there. Quite frankly, that's where we want the case to land, so that when we emerge victorious (as we fully expect we will), a new day will dawn in this country, when no state anywhere will ever be able to deny a child an education on the basis of the child's sincerely held religious beliefs.
This litigation has been very costly for our organization, not to mention the myriad other cases we are now preparing to file. From the case of retired U.S. Marine Bill Salier, who was denied ivermectin by a Walmart pharamacist; to the case of PGA Tour Reporter Teryn Gregson, who was fired for after she refused to comply with The Tour's covid mandates; to the case of the Bristol Myers Squibb employees who were fired for asserting their sincerely-held religious objections to the covid shots; and so many more — we will never back down, so long as we have brave patriots like you standing behind us! Please consider a donation today, and encourage everyone you know to do the same. We have big things planned for this year, but none of it will be possible without your support. Thank you in advance, and God bless you all.