April 25, 2022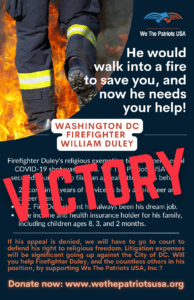 We are happy to report that just today, Washington, D.C. firefighter William Duley received a letter reversing the department's original denial of his religious exemption to the covid shot, allowing him to keep the job he loves so much. Firefighter Duley has not only regained his right to provide for his family, but has won a victory for Patriots everywhere who are fighting back against tyrannical mandates that have nothing to do with public health. We provided Firefighter Duley with the counsel of renowned Attorney Norm Pattis of Pattis and Smith, LLC, who wrote a letter to the fire department placing them on notice that they were acting in violation of federal law by denying him his right to opt out of the shot on religious grounds.
If there is a lesson to take away from this victory, it is this:
When you feel like you have no choice but to bend your knee to ruthless dictators…
When you are faced with a choice between your God and your employer…
When you are ready to give up, and give in…
Remember one thing.
When you stand up to tyrants, we stand up for you.
[maxbutton id="1″ ]