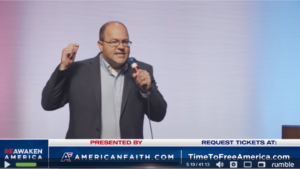 We The Patriots USA, Inc. Co-Founder
Brian Festa, Esq. will be speaking at the
Clay Clark ReAwaken America Tour
Brian speaks Friday, February 18
The event is Feb 18 & 19
Trinity Gospel Chapel
Canton, Ohio
The ReAwaken America Tour is aimed at just that–ReAwakening Americans, by providing information on a variety of topics from Freedom loving experts.
And bringing people together and uniting as Patriots!
Attend the event or view virtually, reach out to the ReAwaken America Tour team for more information.
Throwback: watch Brian speak at the August 2021 Grand Rapids ReAwaken America Tour
Register for the Conference