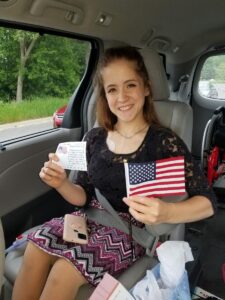 We are proud to announce that today Alisa Campau, the 17-year old who was adopted last year from Ukraine and who has been denied a kidney transplant for refusing the covid jab, was officially sworn in as a United States citizen! Alisa and her parents did it the right way, going through the proper channels so that Alisa could fulfill her dream of obtaining U.S. citizenship, like countless immigrants before her in the history of this great nation. Please join us in congratulating Alisa on this monumental achievement!
But Alisa still desperately needs your help. With just over a month to go before she turns 18 on July 15th, time is running out for her to be placed on the pediatric transplant list, which would give her high priority for a kidney transplant (the adult wait list is 3-5 years).
To date, we have raised only $19,085.93 toward the $50,000 goal for Alisa's legal fund. Please consider a donation today and share this with everyone you know so that they can do the same. Donations can be made electronically via credit card, PayPal, or Venmo below, or you may mail a check or money order to the address on the bottom of this page). Let's help our fellow American citizen Alisa get the medical care she needs so that she can live a long and fruitful life!