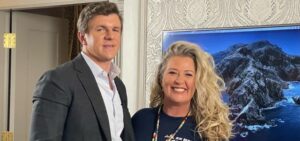 We are proud to announce that Jodi O'Malley,
the brave nurse who exposed the truth about the covid shots
from inside a federal hospital with the help of our friends at
Project Veritas
, has sought the aid of We The Patriots USA. Unfortunately, Jodi has been placed on administrative leave by her employer after coming forward with her groundbreaking video evidence, and the Arizona State Board of Nursing has also opened an investigation into her actions. Please read
this statement
from her attorney Cameron Atkinson.
Jodi has risked everything for the truth – a truth that she knows can save countless lives. She is precisely the type of fearless patriot that we are committed to defend. We have connected her with legal counsel and agreed to fully fund the initial phase of her legal defense. Although Project Veritas created a fundraiser for her that has been raised a substantial sum, we did not want Jodi to be forced to deplete those funds for legal expenses, as she may need that money for living expenses if she is faced with a job loss while she fights the battles that lie ahead, the consequence of her courage.
Please consider a
donation
to We The Patriots USA to help us help Jodi and the many other brave Americans who have put themselves on the line in the name of truth and justice. We are committed to defending patriots all across the nation in their time of need.
When you stand up to tyrants, we will stand with you.