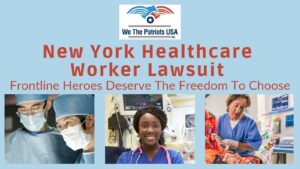 September 25, 2021
Today the Second Circuit granted We The Patriots USA, Inc.'s request for a stay of New York's healthcare workers regulation pending our appeal. As you recall, earlier this month We The Patriots USA filed a lawsuit against NY Governor Kathy Hochul and Howard Zucker, Commissioner of the NY Department of Health (DOH), seeking to strike down their unconstitutional regulation forbidding healthcare workers from even requesting a religious exemption to the covid shot mandate. A federal judge in the Eastern District of NY denied our motion for a preliminary injunction, and we appealed to the Second Circuit. Now the Second Circuit has granted our motion for a stay against the NY DOH regulation, meaning the regulation cannot go into effect until the full 3-judge panel of the Second Circuit hears our appeal!
This is great news. Although a Northern District judge has already granted a temporary restraining order stopping the regulation from going into effect, the judge in our case had issued a contrary ruling. By obtaining this stay at the Second Circuit, however, we now have a ruling from the highest court within this jurisdiction stating that the unconstitutional regulation cannot be enforced until our appeal is heard. Had the Second Circuit denied our motion, countless NY healthcare workers could have lost their jobs as of this Monday, September 27, 2021, the deadline for them to submit to the tyranny of a forced injection.
We intend to argue this case right up to the United State Supreme Court if necessary, and tonight we are only one step away! Should the Second Circuit ultimately rule against us when it hears our appeal, we will be immediately filing an emergency appeal to the Supreme Court. We The Patriots USA is prepared to argue at the high court for the rights of all healthcare workers–and all other workers as well–throughout the nation.
This is only one of many potential cases that we are preparing to file in defense of employee and student rights. Only one thing stands in our way: funding. Please consider a donation today. While all donations are sincerely appreciated, monthly donations are especially needed because they provide us with a reliable stream of income so that we can budget for our litigation efforts and other necessary expenses to keep our organization afloat. Thank you in advance for your generosity!