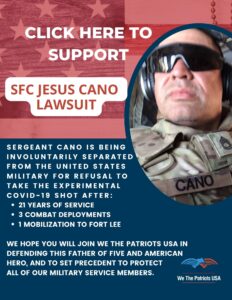 Jesus Cano has served his country honorably for 21 years. As an Army Sergeant First Class with three combat deployments and a mobilization to Fort Lee, he knows firsthand what it means to risk it all in defense of freedom. But he is not willing to risk it all for an experimental injection that violates his sincerely-held religious beliefs. The Army, though, has asked him to do just that, and has informed Sgt. Cano that he will be discharged from the service (and not honorably) or his refusal, risking the loss of the benefits he has earned through his fearless service to his country.
Please join us today in standing up for Sgt. Cano, and for the RIGHT TO REFUSE. We have set a goal of $75,000 to cover Sgt. Cano's legal expenses. Donations to our 501(c)(3) nonprofit organization are tax deductible in most cases. If we receive any funds in excess of our goal, they will be used for all of our organization's other needs, including our numerous other legal efforts.
When you stand up to tyrants, we stand up for you.
Fundraising numbers are updated once per day on weekdays.

Donate One Time
Donate Monthly