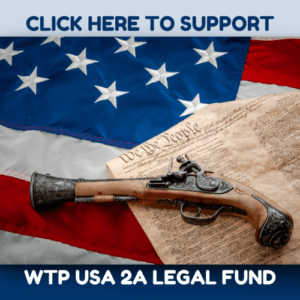 We The Patriots USA, Inc. is devastated at the loss of innocent young lives in yesterday's tragic Uvalde shooting. We support the families who lost loved ones, who are dealing with harrowing injuries, and consoling grief-stricken children who experienced an event many adults cannot fathom.
Our hearts and prayers go out to those families, and we pray fiercely for the lives that were lost.

Our right to bear arms is more important than ever.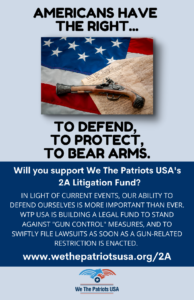 There are many contributing factors to the heartbreaking problem of mass killings. According to the FBI, there was an over 50% increase in mass shootings from 2020 to 2021.
You may point to Godlessness, Mental Illness, or any number of other challenges facing our society and our youth.
Regardless of the cause, it is clear that now more than ever, we need the Second Amendment to protect our right to defend ourselves and our families if needed.
Right on que, the tyrants took this tragedy and began to exploit it. They immediately turned this horrific act into a call for national gun control measures. We aren't surprised, as we all know that Saul Alinsky included gun control in his 8 steps to build a socialist nation.
We also understand that the 2nd Amendment is critical to protect ourselves, our loved ones, and our democracy.
We The Patriots USA is creating a legal fund to stand against any "gun control" measure that is enacted. This legal fund will prepare us to fight a multi-faceted attack on gun rights. WTP USA will partner with other like-minded organizations for a strong unified approach. With this legal fund, we will be prepared to swiftly file a lawsuit against any gun-related restrictions.
Remember the tragedies that were avoided by educated, equipped, armed citizens. Here are a few:
Texas Church Shooting
Tulsa Shopping Center
Arkansas Apartment Complex
Fundraising numbers are updated once per day on weekdays.

Donate One Time
Donate Monthly